Location-independent and fast - the electronic signature with InSign
With our appli­cation and quotation software, you can quickly record the appli­cation with your client and have it signed, regardless of the location. No matter whether you conduct your consul­tation on site, by phone or via video consul­tation. Thanks to the electronic signature via InSign, you can easily submit the appli­cation without paper.
And it is child's play
create appli­cation and offer documents in the online calcu­lator
click on "Appli­cation for electronic signature" and fill out the form
have the customer sign on a touch-enabled device
take a photo of the identity card with the mobile phone and upload it
send – and done!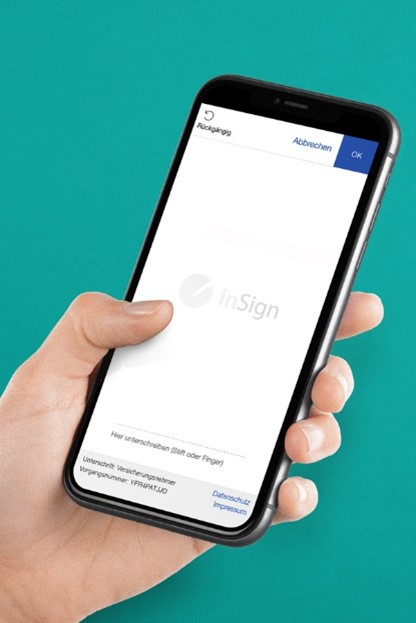 Clever and high evidential value
With InSign, you have an estab­lished signature procedure at your disposal. Through the so-called "advanced electronic signature", additional charac­ter­istics such as writing speed, pressure, angle and rhythm are stored in addition to the typeface. This ensures maximum security and makes it even easier to verify the authen­ticity of the signature.
Fast policy
If the appli­cation is complete and ready for policy, we will send the insurance certificate within 3 working days.
Step by step instruc­tions
Would you like to see exactly how it works? In our step-by-step guide, you can follow the procedure from calcu­lating the offer to submitting the appli­cation with the electronic signature. It's easy, quick and conve­nient. See for yourself!